The Sugar Land Skeeters are set to take on the El Paso Chihuahuas. The parking lot is full. It's dollar dog night. It's ladies' night. Asses are in the seats. The mascot Swatson has the crowd juiced. And yes, Alex Bregman is here starting at 3B during his rehab stint.
As the Skeeters took the field to warm up the crowd swarmed towards the aisle that Bregman was tossing near. He graciously signed a dozen or so autographs.
Skeeters lead the division, Chihuahuas are last place at 16 games back. The only sweep the Skeeters had this season was a 5 game set vs El Paso, and are 9-2 against them overall.
But, what we at Apollo are excited about today is that we have the entire team decked out in our new Sugarland Vs Everyone t-shirts. The guys were excited to get them and sport them for BP today. We've come a long way in a year and half, and this is a proud moment for us.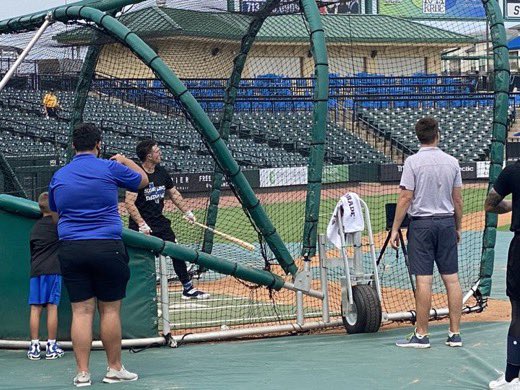 Zack from the Skeeters staff quickly cut together a hype video for the game tonight – and our design is front and center. We love it! Dez is a proud papa.
All before the game began. Players are set. Play ball.
About the Author:
Collin is a Houston lifer with a passion for all things H-Town. An undefeated Astros little league team sparked a life-long fandom of the Houston Astros. Watching the Rockets win back-to-back championships as a child became a fabric of his being. The Texans exist. Collin enjoys creating quirky video and image content for Apollo Media and co-hosts the Apollo Hour sometimes-live podcast where he and Dez (and guests) keep the city updated on the latest Houston sports news — with some personal flair baked in for sweetness.